Man rescues woman from icy water at Hartlepool Marina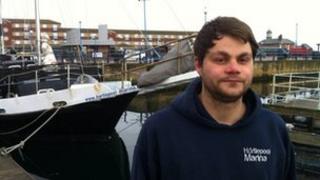 A woman was rescued from icy waters after tripping and falling at Hartlepool Marina.
The 55-year-old was hauled to safety after passing teenagers heard her screams on Tuesday evening.
Marina staff member Ryan MacGregor jumped into the water when it became clear he would not reach the woman by boat.
"I think she was in the early stages of hypothermia," he said. The woman was taken to hospital for treatment.
Mr MacGregor was helped by a Royal National Lifeboat Institution (RNLI) volunteer to pull the woman back to shore.
'Great job'
"She'd been in too long to wait any longer I think," the marina operative said.
"It's cold, she was already struggling, she was in distress."
Mike Craddy, Hartlepool RNLI operations manager said: "The woman had been in the water for about 20 minutes.
"She had been walking from her boat going ashore when she tripped and fell into the water.
"The two lads did a great job in getting help fast and but for their prompt actions things might not have turned out as they did."