Sunderland Glass centre gets £750,000 art funding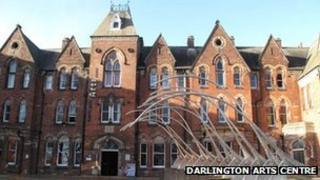 A North East glass centre has won £750,000 of funding while a closed arts centre has lost out.
The Arts Council England (ACE) has awarded the money to Sunderland's National Glass Centre for a refurbishment.
However, a bid for money to turn Darlington Arts Centre into a cultural hub has been rejected.
Darlington Council said it was "bitterly disappointed" and "puzzled" by ACE's decision.
Darlington Arts Centre shut in July 2012 after the council pulled the plug on a £500,000 annual subsidy.
But in conjunction with Project Vane, the council still hopes to redevelop the site into an arts centre, as well as a hotel and restaurant.
'Bitterly disappointed'
Council leader Bill Dixon said he was "bitterly disappointed" but the project still had three-quarters of the money in place from the private sector and the plan had not been abandoned.
He said: "This was an innovative scheme encouraged by ACE as a potential future model for the arts.
"It is therefore puzzling to learn that the bid has been unsuccessful."
The money has been awarded to the glass centre to improve its exhibitions' areas to deliver a "richer programme", ACE said.
A spokesman for ACE said: "The majority of the projects focus on the refurbishment or extension of existing arts buildings.
"Projects range from the replacement of critical equipment to large scale renovations and improvements."