Anti-social arrest threat over snowball throwing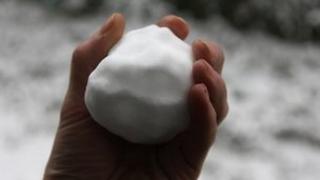 Youngsters in County Durham have been warned that throwing snowballs could result in them being arrested.
Crook Neighbourhood Beat Team said it was aware that people would want to have fun during the snowy weather.
But it said snowballs should not be thrown at moving vehicles, at homes, or at people who did not want to be involved in a game.
It added that anyone doing so would run the risk of being arrested for anti-social behaviour.
Sgt Shaun Davis, of Durham Police, said: "Every year when it snows we get a number of complaints from members of the public concerning young people throwing snowballs at their cars.
"The obvious concern for us is that if it distracts the driver it could cause an accident.
"We thought that this year we'll get a warning out in advance of all the problems, to let people know that it isn't behaviour that we want to accept in this area."