Redcar vertical pier is not leaning, George Dunning insists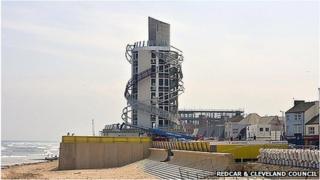 Engineers have inspected a seafront tower dubbed the "vertical pier" after speculation the £1.6m structure was tilting.
Council bosses had the survey carried out as rumours continued to surround the Redcar Beacon project.
Some in the town had suggested it could be twinned with Pisa in Italy, council leader George Dunning said.
But he insisted the recent survey had proven there was no problem with the 80ft (24.4m) tower.
'Batter us with'
"We've had structural engineers looking at it again due to these rumours and the director of regeneration only last week reassured me again that it's not leaning," Mr Dunning said.
"It's like the rumours when they said we wanted to charge £5 to go up the pier. They're just rumours.
"Some of our political opponents have used the vertical pier to try and batter us with."
The tower was named the Redcar Beacon in September after a public vote.
It is intended to be the centrepiece of a £75m regeneration of Redcar but was criticised by some who favoured a traditional pier.
The tower is due to open this year.
Mr Dunning said: "I don't mind having a little joke about things but in reality we got structural engineers in and the director of regeneration tells me that it's not leaning so that's as far as it goes."