RSPB Saltholme in Wellington boot call to feed birds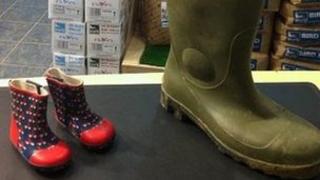 A wildlife reserve on Teesside is asking for donations of Wellington boots to turn into bird feeders.
People are being invited to take their old or unwanted footwear along to RSPB Satlholme, near Stockton.
Staff will demonstrate how to adapt them for use at the reserve or in their own gardens.
The RSPB said that extreme weather had taken its toll on wildlife, so anything people can do for birds, such as putting out extra food, would help.
A report published in November stated: "There have been many changes in the UK which have affected birds, most notably changes in the land use and the management of our countryside and seas.
"These can change the amount or quality of key resources needed by birds, such as suitable places to nest or a shortage of food in summer or winter."
Clear picture
Liz Morgan, from the RSPB, said: "The idea is that old wellies will be used on the reserve as bird feeders, miniature gardens for things such as herbs, or even for activities such as welly wanging."
She also encouraged people to hang out feeders for birds, home-made if necessary, in their gardens.
"To be honest, you can use pretty much anything that can hold bird seed," she said.
"These can include containers such as coconut shells, yoghurt pots, or plastic bottles."
People around the UK are also being encouraged to take part in the Big Garden Birdwatch on 26 and 27 January.
This helps the RSPB paint a clearer picture of bird populations in the UK, and also understand how they might be affected by extreme weather and changes in climate.