House and car damaged in Ferryhill Station crash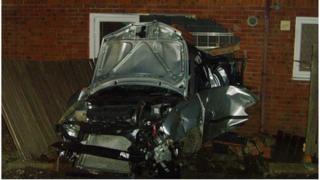 A driver had a "miraculous" escape after his car crashed into the side of a house.
A couple was evacuated from the house in Gipsy Lane, Ferryhill Station, County Durham, after the crash shortly before 18:00 GMT on Saturday.
Neighbours were also evacuated over safety fears from a gas leak after a pipe was damaged.
County Durham and Darlington Fire and Rescue Service said the driver nor the couple in the house were hurt.
Service district manager Rob Turnbull said the car crashed into a garage, which was part of the house.
He said: "The driver really has had a miraculous escape."
He said he got himself out of the car, which he said was written off.
The road was cordoned off for several hours. The pipe was later made safe and the people allowed to return home.
The cause of the crash is being investigated by Durham Police.
Mr Turnbull said weather conditions were misty and wet and reminded motorists to adapt their driving to the conditions.
House and car damaged in crash