Hades the cat from Lingdale recovers from severe burns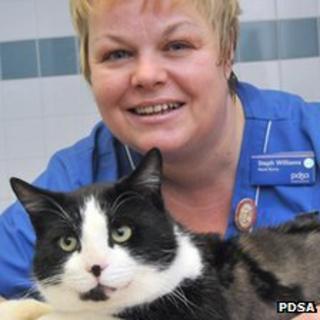 A pet cat not expected to survive after suffering severe chemical burns has made a full recovery.
Two-year-old Hades came home with most of his fur missing and burns to his neck, legs and abdomen after being lost for two days.
Vets at the Middlesbrough PDSA charity clinic believe a toxic liquid may have been thrown on him deliberately.
But now three months on, Hades - whose name means Hell - has been nursed back to health and his fur has grown back.
Hades went missing from his home in Lingdale, near Redcar, in October.
When he returned his owner Moira Watson-Pickering took him to the charity hospital where he was sedated and all his remaining fur clipped off so the burns could be treated.
PDSA head vet nurse Steph Williams said: "He also has sores on his nose and mouth as a result of trying to clean himself and lick off the substance."
Covered in bandages
The family asked around to try to find out what had happened to their pet, but inquiries in the village drew a blank.
Hades had to stay in the clinic and was covered in bandages from neck to tail for weeks. He also had to stay in a cage to restrict his movement.
Ms Williams said: "Without treatment it would have got infected, and the worst case scenario is that he could have died.
"His wounds were dressed on a daily basis but despite this he remained calm and friendly and quickly became a real favourite with all the staff."
Mrs Watson-Pickering said: "I was horrified to hear that somebody may have deliberately done this to him.
"He looks a little bit like a patchwork quilt, but he's definitely on the mend.
"We thought his character might have changed because of his ordeal but he's still incredibly loving.
"The vets and nurses were amazing, calling us every day with updates."