Redcar RNLI hopes for quiet festive period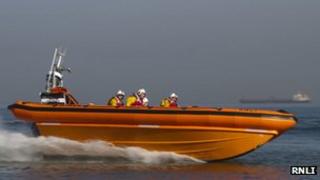 Volunteer lifeboat crews on Teesside have expressed their hopes for a quiet festive period.
Members of Redcar RNLI will be among 5,500 volunteers around the UK on standby to deal with emergencies.
Unless they specially opt out, Redcar team members risk being called even on Christmas Day, or New Year's Eve.
However, there is one festive duty the crew is happy to take part in - providing cover for the town's annual Boxing Day charity dip.
Dave Cocks from Redcar RNLI said: "Fortunately we've been blessed with not many incidents over the festive period over the past few years and we're hoping to keep it that way.
"But if the call comes then the crew will respond in exactly the same way as they do any day over the year."
RNLI operations director, Michael Vlasto, said it was a "testament to their absolute commitment".
"Of course, it is not just the lifeboat crews we should remember, but also their families and friends, who too are prepared for Christmas to be disturbed by the call of the pager," he added.