Middlesbrough Council: Hemlington Library and CCTV saved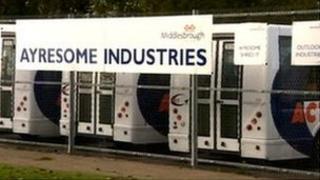 A library threatened with closure has been removed from a list of proposed council cuts by Middlesbrough mayor Ray Mallon.
Hemlington library will be saved along with the town's CCTV system, Mr Mallon confirmed at a meeting on Tuesday.
Disabled workers at the Ayresome Industries factory have also won a partial reprieve.
But Mr Mallon warned a further £2.4m of savings would need to be found alongside the £11m already announced.
He outlined his opposition to accepting a council tax freeze grant although the issue will be debated by councillors next month.
"I do not believe this is sustainable and would give me little or no room for manoeuvre in responding to the consultation process," Mr Mallon said, recommending a 2% increase.
The mayor said setting the budget - which will lead to the loss of 220 jobs - was a "poisoned chalice".
"Whichever way you look at this, it is all bad news," he said.
Uncertain future
Of the 111 proposals originally put forward, Mr Mallon has withdrawn or deferred five and made changes to seven after a six-week consultation.
The 37 disabled workers at Ayresome Industries were facing redundancy if the council withdrew a grant but the mayor announced 11 had been redeployed, 15 would continue in their roles while the future of a further 11 staff remains uncertain.
Mr Mallon said he was impressed by the community's support for Hemlington Library but wants it to become a "volunteer-supported" service.
Cutting council cash for the town's CCTV system would have saved £150,000 but the mayor said the network of 177 cameras had led to 4,500 reports of crime and 800 arrests in the last year.
The mayor expressed his disappointment that no funding for the service was provided by the police and said the council needed to become less "benevolent".
He also called on the NHS to make further contributions to mental health services in the town as he confirmed the Sunningdale residential home would close.
"This council is not a charity," Mr Mallon said.
"If I had a criticism of the council it would be that we have not been hard enough in dealing with out partners."
Staff car parking
Green waste collections were to be cut but will now continue after the council found external funding for the system.
Funding for trade union facility time will no longer be cut after lobbying from the Labour group on the council.
Mr Mallon has announced 22 new proposals, including introducing parking charges for council staff, to save the additional £2.4m.
A second consultation will run until 25 January.