Saltburn polluted stream clean-up begins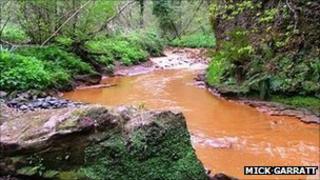 A multi-million pound clean-up of a stream polluted by old ironstone mines in Saltburn is under way.
Saltburn Gill changed colour on 18 May 1999 when it was polluted with iron ochre from a nearby ironstone mine.
The Environment Agency said water would be pumped from the old mine workings until the current discharges dry up.
It said more than £700,000 had been spent so far and a further £2m was earmarked to clean-up the orange-stained beck.
A spokesperson added: "When the pumping has stabilised the groundwater levels, a treatment scheme will be constructed.
"The new scheme will filter iron from the mine water before it enters the stream by using a series of ponds."
The money for the clean-up comes from a government fund to combat problems caused by abandoned metal mines across England.