Drugs gang jailed at Teesside Crown Court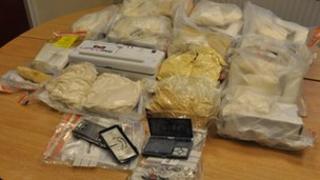 Seven members of a "sophisticated" gang that "flooded" the streets of Teesside with cocaine have been jailed.
An anonymous tip-off led Cleveland Police to the network which was arranging deliveries to the North East from Liverpool.
The men, from Middlesbrough, Liverpool and County Durham, got jail sentences ranging from six years and two months to 11 years at Teesside Crown Court.
Judge Simon Bourne-Arton QC described the conspiracy as "professional".
All seven pleaded guilty of conspiracy to supply class A drugs. One of the seven men also admitted conspiracy to supply class B drugs.
'Multiple kilos'
Police believe the men made hundreds of thousands of pounds from their enterprise.
"This wasn't just a one-off, this is something that has been going on over considerable months and we believe that multiple kilos of cocaine have been flooding the streets of Cleveland that have come from Liverpool," Det Sgt Sarah Robinson said after the hearing.
Cash was paid into banks in Redcar and transferred to accounts on Merseyside, the court was told.
Police believe the cocaine, and amphetamines, was sold in pubs in Middlesbrough and from homes in the Gresham area of the town.
Det Sgt Robinson praised the individuals who gave police information that led them to find huge quantities of cocaine and amphetamines in houses and in cars travelling into Teesside.
"The information came to the police anonymously from somebody within the community," she said.
"There was more than one source that came to us. Any information we get from the public we treat seriously, we look into it, we investigate it and we couldn't do our job without the community's help and support."
Three other men admitted conspiracy to supply Class B drugs. Two were jailed and one received a suspended prison term.