Arriva North East disabled access row: judgement delay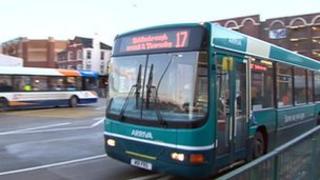 A group of disabled people, who claim a North East bus company discriminated against them, will have to wait until February for a judge's decision.
Darlington Association on Disability is supporting an action against Arriva North-East, claiming drivers failed to stop for passengers in wheelchairs.
The case was due to last two weeks, but has been adjourned to allow the company more time to prepare its defence.
Unity Law, representing the group, said the delay was "disappointing."
The case began on Monday at Teesside County Court in Middlesbrough.
Arriva said its staff fully complied with Department for Transport guidelines and the Disability Discrimination Act.
The action centres on claims by seven disabled people that wheelchair users have been refused access to some buses where there was already a pushchair on board.
The judge said that once all evidence in the case had been heard, judgement would be given in February.