Ray Mallon calls for Michael Sheffield to resign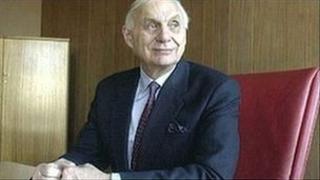 Middlesbrough mayor Ray Mallon has become the latest public figure to call for the resignation of Teesside coroner Michael Sheffield.
The mayor made his remarks as the council's executive discussed a report into inquest delays.
A scrutiny panel learned that inquests on Teesside took an average of 44 weeks to be fully completed compared to a national average of 27 weeks.
Mr Sheffield was not available for comment.
Inquests are formally opened soon after death but not concluded until all necessary evidence is available.
Investigation deferred
The council's community safety and leisure scrutiny panel has made 13 recommendations to ensure the backlog is cleared.
It noted that Mr Sheffield is over the age of 80 and more recent legislation that did not apply to him required coroners to retire at the age of 70.
Past and present Teesside MPs have been involved in efforts to improve the service dating back more than 10 years.
An Office for Judicial Complaints investigation into Mr Sheffield was deferred pending the outcome of the council's report.