Ayresome Industries campaign backed by MP Tom Blenkinsop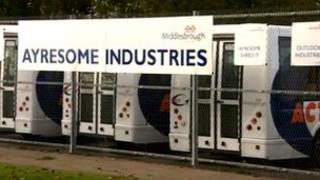 A Middlesbrough MP has supported calls for a factory employing disabled workers to be saved from closure.
Tom Blenkinsop is backing a campaign by the Community Union to safeguard jobs at Ayresome Industries.
The factory stands to lose a £180,000 grant from Middlesbrough Council as the authority aims to save £14m from its budget in 2013/14.
A consultation on the savings ended this week. The council will discuss the results at a meeting on 18 December.
Mr Blenkinsop has written to the council calling for the factory to be saved.
He said it was one of three cuts that "must be avoided" along with a proposal to close Hemlington Library and end funding for a teenage concessionary travel pass.
A protest regarding Ayresome Industries is planned for Wednesday.
'Unpalatable choices'
The factory employs 37 disabled staff and the union fears many of them will be unable to find work if it closes.
The staff make window units and industrial brushes on the Letitia Street Industrial Estate.
Labour MP Mr Blenkinsop said: "Specialist disability employment is vital and in the North East alone 67% of disabled people at working age are either unemployed or inactive.
"The closure of Ayresome Industries would only add to this figure as it will prove extremely difficult for workers to find any work in an area with such high unemployment, never mind suitable work for their particular requirements and skill set."
Middlesbrough Council needs to make savings of around £75m over the next six years.
The proposal to cut the grant to Ayresome Industries is just one of 111 proposals made by the council for the next financial year. It has said that unpalatable choices have to be made.