X Factor's James Arthur mobbed by fans in Saltburn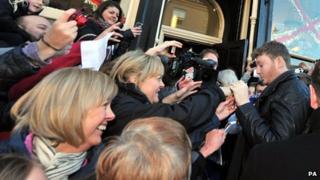 X Factor finalist James Arthur has been greeted by hundreds of fans in his home town of Saltburn-by-the-Sea.
Arriving by motorbike with his mentor Nicole Scherzinger he was greeted at his local pub by people screaming and shouting his name.
After visiting a few local sites he is due to play a free homecoming gig at Middlesbrough Town Hall tonight.
In the crowd, Kieran Shane said: "He's got charisma, he's got charm, he's got talent and he's a joy to be around."
Mr Arthur was voted through to the ITV show's final after a public telephone vote on Sunday.
He will compete against Christopher Maloney and Jahmene Douglas on Saturday and Sunday in Manchester.
'Real honour'
Earlier in the week, Mr Arthur described his "ultimate sense of achievement" and said it was a "real honour that people pick up the phone" to vote for him.
Mr Shane said: "I've known him for about five or six years and I always knew he was destined for success.
"It's a Cinderella story, a rags to riches story and it's the best."
The free gig will be the first time the singer/songwriter has performed in the North East for his new fans.
Albert Road will be closed between Corporation Road and Grange Road from 18:30 GMT and 22:00 GMT while the concert takes place.
Middlesbrough Council said all the tickets for the event had been allocated.