East Coast rail services hit by landslide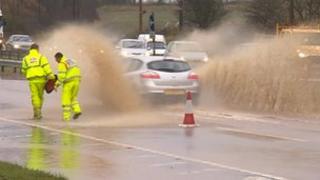 Commuters in County Durham and Teesside faced further travel disruption after heavy rain continued on Tuesday.
A landslide north of Darlington damaged overhead lines, meaning disruption to East Coast rail services until at least the weekend.
Weather forecasters said the north-east of England remained at risk of flooding, but rain is expected to ease.
The Environment Agency say a number of flood warnings and flood alerts remained in place.
Several roads in Middlesbrough, Stockton and Hartlepool were closed.
Network Rail told the BBC it expected repair work on the East Coast Mail Line would continue until the weekend after damage caused by flooding.
An embankment slip at Aycliffe, between Darlington and Durham, damaged 2km (1.2 miles) of overhead line.
An embankment slip also damaged overhead lines at Hartlepool and Dawdon on the East Durham coast.
East Coast Trains said it would be running a limited service of three trains an hour.
Hurworth School in Darlington was closed due to the severe weather conditions.
Bishopton Redmarshall Primary School, near Stockton, which was closed on Monday after access roads were flooded, remained closed.
Graham Donackie from the Environment Agency said: "The major problem that we've had has been the levels in the River Skerne - those have remained high overnight and we did issue two flood warnings during the night as well.
"There's been a multi-agency exercise to try and distribute sandbags and we've had people on the scene working with the police and emergency services in case there is any problems with flooding.
"So far the level is high but we haven't had any flooding, but we are monitoring that situation very closely."
Abandoned track
Motorists faced disruption on Monday with major routes such as the A19 closed near Hartlepool and the A1M passable only with care due to standing water.
Southern County Durham, Darlington and parts of East Cleveland were among the worst affected areas.
Police urged motorists to continue to take extra care, warning of standing water on many roads.
Pete Williams from the RAC, said: "If motorists can avoid travelling, then that's probably the best advice we can give.
"Conditions are still really tough out there, our patrols are out helping lots of motorists stranded in the floods.
"If you feel you have to drive through that water, then look and observe what other vehicles are doing... drive through water at a very stead, slow pace."
Tuesday's meeting at Sedgefield Races was abandoned because the track was waterlogged.