Durham PCC Ron Hogg calls for gun licence changes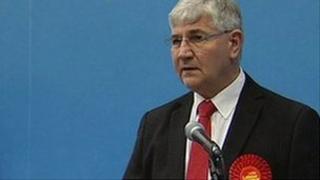 Durham's police and crime commissioner Ron Hogg has called for a change in the way gun licences are issued following an inquiry into a quadruple shooting.
Michael Atherton, 42, shot three family members and then himself at his Horden home on New Year's Day.
The Independent Police Complaints Commission (IPCC) found his violent past had not been fully investigated.
Mr Hogg said applicants for firearms licences should be forced to submit full medical histories.
But the British Association for Shooting and Conservation (BASC) said rather than passing new laws, the emphasis should be on making sure existing legislation is properly applied.
Labour PCC Mr Hogg, who held senior positions in both Durham and Cleveland Police, said it was crucial forces around the country learned lessons from the report.
'Greater consistency'
Mr Hogg has already attended a briefing with temporary Chief Constable Mike Barton linked to the IPCC report and will be considering the full conclusions this week.
He said: "I'm assured by the chief constable that they have reviewed their processes and tightened things up considerably."
Mr Hogg believes a change in the system could be necessary.
"What we need is greater consistency and perhaps continuous rigour within the court system," he said.
"I've had much experience with firearms licensing over the years and medical evidence was always something that was very difficult to obtain.
"I think it should be changed so that every individual applying for a firearm has to give open access to their medical records: it would put onus on the applicant."
The IPCC said there was no evidence to warrant criminal or disciplinary action against any officers but discovered incidents which "should have cast doubt" on Atherton's suitability to hold firearms.
Atherton shot his partner Susan McGoldrick; Alison Turnbull, her daughter Tanya and turned the gun on himself following a row.
A copy of the IPCC report details three warnings issued to Atherton by police because of incidents of domestic violence and claims he threatened to "blow his head off" while drunk.
Family campaign
The watchdog's findings said Durham Police failed to properly scrutinise Atherton's 2006 application for a shotgun certificate and an application for a firearms licence two years later in 2008.
Alison Turnbull's son Bobby has started a campaign calling for tougher restrictions on the issuing of licences.
Mr Hogg said he would be supporting the family and speaking to other PCCs around the country about the issue.
Simon Clarke from BASC said the existing law had not been properly applied in the Atherton case.
He said: "It seems Durham Police had several opportunities to take Michael Atherton's guns from him because of the history of violence offences and threats.
"It's important that the law is applied properly in the first instance before reaching out for new legislation."