Cinema plan for Darlington's Feethams bus depot site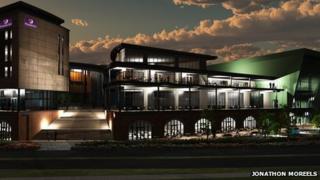 Up to 500 jobs could be created at a new leisure complex in Darlington, the council has announced.
It has signed a deal with developer Terrace Hill for the £30m project, on the site of the former bus depot in the Feethams area.
As well as a multi-screen cinema, there would also be an 80-bed hotel, shops, and a number of bars and restaurants.
A consultation on the plan will begin soon, and it is hoped it will be complete by the end of 2014.
Councillor Bill Dixon, leader of Darlington Borough Council, said: "It will be an iconic development in the heart of the town offering a much-needed cinema experience.
"The news is clear evidence that Darlington can attract a first-class development of this kind, and that there is confidence in the business world in what the borough has to offer."