Horden shootings: IPCC highlights Durham Police failings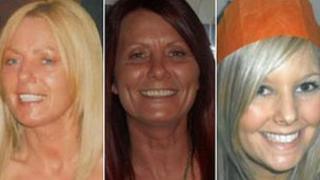 An inquiry has found "unacceptable" and "inexcusable" failings in how Durham Police dealt with a man who shot dead three family members and then himself.
Michael Atherton, 42, shot his partner Susan McGoldrick; Alison Turnbull, her daughter Tanya then himself after a row at his Horden home on New Year's Day.
Atherton legally owned six weapons, including three shotguns.
But the Independent Police Complaints Commission (IPCC) said his violent past had not been properly investigated.
While the IPCC said it found no evidence to warrant criminal or disciplinary action against any member of Durham Police, it said the force knew of "a number of incidents" which "should have cast doubt" on Atherton's suitability to hold firearms.
Durham Police said that since the shootings it had carried out a full review of policy and procedures.
A copy of the IPCC report, seen by the BBC's Inside Out, revealed Atherton was given three police warnings between 2007 and 2008, because of incidents of domestic violence and claims he threatened to "blow his head off" while drunk.
The force was also aware of several domestic violence and drink-related incidents dating back to 2002, the IPCC said - although Atherton only ever received a caution.
The report said Durham Police failed to properly scrutinise Atherton's 2006 application for a shotgun certificate and an application for a firearms licence two years later in 2008. It concluded that decisions were taken with only "partial facts".
It has described the failure of senior staff to follow up on concerns voiced about Atherton's emotional state by subordinates as "unacceptable" and concluded the resulting lack of consideration given to the "welfare of the family and wider public" was "inexcusable".
The report highlighted Durham Police's assessment of Atherton for his first shotgun certificate in 2006, in which a member of staff added a handwritten post-it note to his file which read: "4 domestics - last one 24/4/04 - was cautioned for assault. Still resides with partner & son & daughter. Would like to refuse - have we sufficient info - refuse re public safety."
But the recommendation was overruled by two more senior members of the Firearms Licensing Unit, who, the report said, feared the force would lose any subsequent appeal by Atherton as he had never been convicted of an offence.
The IPCC said further opportunities to reassess Atherton were missed when he applied for a firearms licence in 2008, which allowed him to own more powerful weapons.
Shortly after being granted the firearms licence his weapons were seized after a further domestic incident at Atherton's home.
Full inquest
But the IPCC found it "unacceptable" and "inconceivable" that they were returned without Atherton or his family being formally interviewed by licensing staff.
Alison Turnbull's son Bobby, who has seen a copy of the report, said he was angered by its findings.
Mr Turnbull, who has started a campaign urging tougher restrictions on the issuing of gun licences, said: "The police had a number of opportunities to refuse the licences. If people did their jobs in the first place lives would never have been taken."
Durham's deputy chief constable Michael Banks said: "We continue to extend our sympathies to the families of those who died in Horden on the night of January 1, 2012.
"We are aware that the IPCC has updated the victims' families on the outcome of their investigation into firearms licensing decision-making in the case of Michael Atherton, and supplied them with their report.
"We've been informed by the IPCC that it is their recommendation that there are no criminal or misconduct cases to answer for any member of Durham Constabulary.
"The report into the investigation will not be made public until HM Coroner holds a full inquest into the deaths. This is not likely to be before the spring of next year.
"We feel that at this stage it is entirely appropriate that members of staff who made decisions within relevant guidance are not identified, as it is the coroner who addresses issues of anonymity.
"Since the tragic events in January, we have carried out a full review of policy and procedures. It would be wholly inappropriate to comment further."
Watch more on this story on Inside Out North East and Cumbria on BBC One at 19:30 GMT on Monday, 19 November, 2012.