Dave McLuckie arrested by Operation Sacristy officers for second time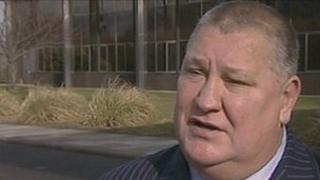 The former chairman of Cleveland Police Authority has been arrested on suspicion of perverting the course of justice, the BBC understands.
Dave McLuckie was held last month in connection with a motoring offence, it has emerged.
The Redcar and Cleveland councillor was already on bail as part of Operation Sacristy, a criminal probe into alleged corruption at the police authority.
He has been bailed until 16 November after the most recent allegations.
Mr McLuckie could not be contacted on Wednesday.
'Fraud offence'
A spokeswoman for Warwickshire Police, whose officers are leading the investigation, said: "A 51-year-old man has been arrested by members of the Operation Sacristy team.
"The man was arrested on suspicion of perverting the course of justice, obtaining a pecuniary advantage by deception and a fraud offence."
Officers from Operation Sacristy will pass evidence to the Crown Prosecution Service for charging advice.
The wider investigation concerns a number of individuals with past or present associations with the police authority.
Cleveland Police's former chief constable Sean Price was sacked last month after he was found guilty of gross misconduct in relation to the role he played in the recruitment of Mr McLuckie's daughter to a civilian role at the force.
There is no suggestion that the she did anything wrong during the process.
Mr McLuckie resigned as chairman when Operation Sacristy started but denied any wrongdoing.
The Skelton ward councillor was arrested on suspicion of "corrupt practice" last November. He remains suspended by the Labour Party.
Middlesbrough South and East Cleveland Labour MP Tom Blenkinsop has called for Mr McLuckie to "do the honourable thing and resign".
Mr Blenkinsop said: "Clearly this a very serious matter that must be dealt with and, as in accord with our judicial system, Councillor McLuckie naturally remains innocent until proven guilty.
"However, it is my firm belief that Councillor McLuckie will struggle to effectively represent the people of Skelton as a councillor whilst he's having to deal with these very serious allegations against him, especially when Operation Sacristy is separately continuing to investigate Cleveland Police Authority.
"He should therefore do the right thing, and resign for the sake of my constituents in Skelton."
A spokesman for Labour North said: "Councillor McLuckie is currently suspended from the Labour Party following his earlier arrest.
"When all police investigations are completed the party will look to take the appropriate disciplinary action."
Redcar and Cleveland Council declined to comment on Mr McLuckie's arrest.
Mr Price, the former chief constable of Cleveland Police, remains on bail as part of Operation Sacristy, which has cost more than £1.6m so far.
Cleveland Police Deputy Chief Constable Derek Bonnard is also suspended from duty and faces a disciplinary hearing next week which could lead to his dismissal.
He has been released from bail and informed he will not face criminal charges. Mr Bonnard denies any wrongdoing.