Cleveland PCC candidates clash over officer numbers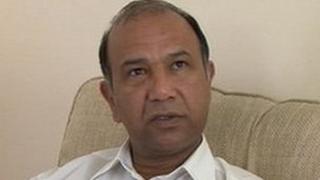 Police and crime commissioner candidates in Cleveland are divided on how the force can increase the number of frontline officers.
Independent Sultan Alam claimed an extra "40 or 50" officers could be available if paperwork was cut.
Conservative hopeful Ken Lupton doubted the figure during a debate on BBC Tees.
Labour's Barry Coppinger said neighbourhood policing was vital while the Green Party's Joe Michna warned against making pledges on numbers.
'On the streets'
Mr Alam, a former Cleveland Police officer who received £800,000 in compensation from the force after he was wrongfully jailed, said a officers could be on the beat more if minor changes were made.
"I've worked out if we reduce their paperwork burden by 10% to 15% we could possibly release the same officers for at least another hour, or two hours a day," Mr Alam said.
"What you would see is the equivalent of 40 or 50 officers back on the streets."
Mr Michna, a Citizens Advice Bureau manager and Middlesbrough councillor, said it was important not to make "rash pledges and promises" which could not be kept.
He said: "I like anybody would like to see more police officers on the beat but we are in a current financial environment where resources to the Cleveland Police service will be reducing.
"I'm not going to make a pledge at this stage that there will be more officers if I am PCC."
Administrative posts
The first PCCs will be elected in every force area around England and Wales outside London on 15 November.
Mr Coppinger, a Middlesbrough councillor and former deputy chair of Cleveland Police Authority, said one of his priorities would be to protect neighbourhood teams that proved popular with the public.
"It's important that we get the balance right here because while we all want to see more officers on the front line they have equally got to be properly supported," he said.
"Over recent years Cleveland Police has been involved in the workforce modernisation programme.
"We've released more officers for frontline duties and we've replaced those posts with administrative non-police posts."
Mr Lupton, a former leader of Stockton Council, said he did not think significantly more could be done to improve the balance.
He said: "I think you've got to realise that the temporary chief constable and the new chief executive [of the police authority] have actually done a sterling job in improving the performance of the force.
"They have taken frontline police officers off administrative duties."
New chief
One of the successful candidate's first responsibilities will be to appoint the force's new chief constable.
Last month Sean Price became the first chief to be sacked in 35 years after he was found guilty of gross misconduct.
Jacqui Cheer has been in temporary charge since Mr Price's original suspension in August 2011.
Mr Lupton said he had vast experience of working with leading executives and Mr Michna said it was essential the PCC was prepared to stand up to the force and senior officers.
Mr Coppinger told listeners he was "no shrinking violet" and would aim to have a "constructive but rigorous" relationship with the new chief.
The new chief constable would have to "look after the interests of the people of Cleveland first and foremost", Mr Alam said.