Over £1.5m extra for Redcar leisure centre development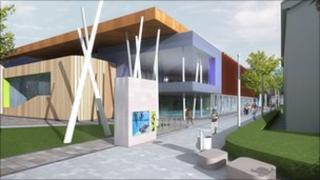 More than £1.5m extra funding has been secured for a leisure centre being built in Redcar.
Work has begun on the £31m centre which will include a six-lane swimming pool and space for community projects.
The additional European funding means a business centre and office space can be added to the development.
The additional funding means that the centre will now be able to employ another 24 people on top of the 260 positions already planned.
The business facility will be located within the new community part of the building which is being developed as part of the town's regeneration plans, knowns as Redcar Leisure and Community Heart scheme.
Cabinet Member for Economic Development, Mark Hannon said: "The business space is a key part of Redcar & Cleveland Council's regeneration masterplan to create 610 new businesses in the borough."