Murder accused James Allen was 'out of breath and sweating'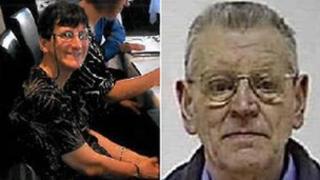 A man accused of two murders was seen "out of breath and sweating" on the night an 81-year-old man was killed, a court has heard.
James Allen, 36, denies killing Colin Dunford, 81, of Middlesbrough, and Julie Davison, 50, of Whitby, in April.
Craig Lines, who Mr Allen was staying with on the day Mr Dunford was killed, told the court the accused had been in and out during the evening.
He added that he was out for "about an hour" the last time he left.
Newcastle Crown Court has heard that Mr Dunford and Ms Davison were both found with head injuries at their homes days apart in April.
Mr Lines said: "The last time he came back he looked upset. He was out of breath and sweating and he had a snotty nose.
"When he was taking his coat off he had a pile of paperwork. They looked like bank statements and he had a couple of bank cards and mobile phones."
'High on drugs'
The jury was told that bank details of Mr Dunford were later found at the house under one of the sofas.
Mr Lines told the jury Mr Allen had previously told him he had terminal bone cancer and that was why he let him stay because he "felt sorry for him".
John Bromley-Davenport, defending, accused Mr Lines of being "high on drugs" that night and said he knew more about the death of Colin Dunford "than he was letting on".
Mr Lines denied this and said: "I'm disgusted with the way you're treating me."
The hearing continues.