Ayresome Industries: Future in doubt for disabled workers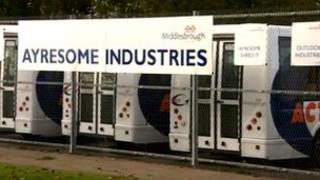 Unions have warned that disabled people working at a closure-threatened factory on Teesside will not get new jobs elsewhere if it ceases business.
Ayresome Industries is set to lose a £180,000 grant from Middlesbrough Council.
It is this money that keeps it in business, employing 37 disabled staff making window units and industrial brushes.
However, the council must save £75m over a six-year period, and it said that unpalatable choices have to be made.
But the union that represents workers at the Middlesbrough factory, Community, is aghast at the move.
It has set up a Save Ayresome Industries campaign, claiming that the workers will not find jobs elsewhere.
'Defiance and disbelief'
"I don't think they will," said Margaret Wotherspoon, campaign manager with the union.
"Bear in mind," she continued, "that in this area, unemployment is high - and that's for able-bodied people.
"People with disabilities are at a real disadvantage, and there's absolutely no chance of them getting other jobs, unfortunately," she insisted.
Craig Harvey is one of the 37 workers who could lose their jobs.
He has made industrial brushes at Ayresome Industries for the last eight years.
He said that the mood in the factory is one of defiance and disbelief that talented people may soon be unemployed.
"Everybody in there is annoyed about it," said Mr Harvey.
"We've got men in there who've got disabilities but they are still very very good workers - some are even speed workers.
"We've got one man who works there who is deaf, partially sighted, in his 50s, but he's very fast at making the brushes," he continued.
Ayresome Industries can trace its roots back to 1926, when it was first established in Middlesbrough as a small venture selling hand-made brushes.
Industry success
It is currently on the town's Letitia Street Industrial Estate.
The company is run by Middlesbrough Council with the specific aim of getting disabled people into employment.
Its success was praised in a 2009 report by the Social Care and Adult Services Scrutiny Panel.
"Companies do not need to provide a charitable service or treat people differently, but provide opportunities for people to do an honest day's work for an honest day's pay," it said.
The proposal to cut the grant to Ayresome Industries is just one of 111 proposals made by Middlesbrough Council for the next financial year, 2013-2014, in the hope of saving £14m in that period.
The elected mayor of Middlesbrough, Ray Mallon, said the proposals are now open to public consultation.
But he warned that if people objected to a service being cut they would have to suggest an alternative that saves a similar amount of money.