Murder suspect James Allen 'caught in woman victim's clothes'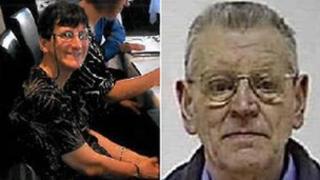 A man accused of two murders was caught on camera wearing his female victim's jacket and trainers, a court has heard.
James Allen, 36, denies killing Colin Dunford, 81, of Middlesbrough, and Julie Davison, 50, of Whitby, in April.
On the second day of his trial, the jury heard he was caught on camera coming out of Ms Davison's flat wearing her clothes.
The prosecution said the motive for the killings was robbery and the person responsible "intended their deaths".
Prosecutor Robert Smith QC told the jury there was "compelling evidence" of the defendant's guilt.
He said CCTV footage showed Mr Allen selling a laptop which belonged to Ms Davison to a stall holder at Leeds market.
'Distinctive trainers'
He also took a gold St Christopher necklace from her flat which he sold for £35 at a cash generator store, Mr Smith said.
The court also heard Mr Allen was filmed wearing her black jacket and "distinctive" white trainers.
Mr Dunford and Ms Davison were both found with head injuries at their homes days apart in April.
The court also heard a recording of a 999 call made by a friend of one of the victims.
The body of Mr Dunford was discovered by his friends George Foreman, Angelina Dicicco and Andrew Mallett.
The court was played the emergency call made by Ms Dicicco.
While sobbing down the phone, she said: "He's been robbed and murdered. He's been murdered.
"He's on the floor on the living room. He's bleeding, he's dead, he's dead."
In his evidence, Mr Foreman said he had been a friend of Mr Dunford for 10 years.
He said that only once in that time had his friend not come to the social club they attended on a Sunday night.
It was Mr Dunford's absence from the club that alerted him to something being wrong.
The hearing continues.