Stockton house sells for £14,000 at auction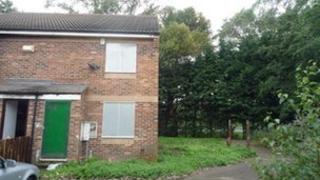 A three-bedroom property in Stockton billed as Britain's cheapest house has sold for £14,000 at auction.
The semi-detached house in the Teesside town, on Limetrees Close, Port Clarence, went under the hammer with a starting price of just £750.
But a surge in interest saw its value reach £14,000 when it was bought on Tuesday evening.
Similar properties have sold for more than £50,000, according to auctioneers Robinsons estate agents.
Richard Watson, from Robinsons, said the property needed a "huge amount" of work to bring it up to a "decent standard".
He added the house "has been vandalised to a very bad extent: all of the wiring has been taken out, there's no plumbing, there's no heating system, the kitchen has been removed, and the bathroom is an absolute mess".
'Really bad'
The street which the house is on has suffered from anti-social behaviour and arson in the past, with Stockton North MP Alex Cunningham recently calling on residents to work with police to bring the area back to its "former glory".
A resident, who did not want to be named, said it used to be a family area, but had become "really bad" since homes had been left empty, attracting "the wrong kind of people".
The street has more than 50 houses on it, 25% of which are currently empty, according to Stockton Council.
The resident said: "It used to be like the suburbs, it was out of the way, we even had a Neighbourhood Watch scheme.
"It all changed about six or seven years ago; the street stopped being about families, and the houses were sold on to landlords who didn't care about the area."
A council spokesman said funding had been secured to help cover the costs of CCTV installation in the area.
It is hoped that this, along with "general clean-up work", will help revitalise the neighbourhood.