Arthur Wharton: Granddaughter visits African birthplace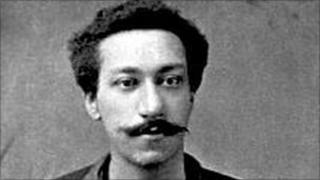 The granddaughter of the first black professional footballer has travelled to his birthplace in West Africa to celebrate his legacy.
Arthur Wharton came to the UK from Ghana in the 1880s and was signed by Darlington at the age of 19.
His granddaughter, Sheila Leeson, 81, and Shaun Campbell, the founder of the Arthur Wharton Foundation, met some of his descendants in the capital, Accra.
They also presented ministers with a statue of the player, who died in 1930.
Born in the Gold Coast, now known as Ghana, in 1865, Arthur Wharton moved to County Durham in 1884 with the intention of training as a Methodist missionary. But he opted instead to become a full-time athlete.
In 1886 he became the Amateur Athletics Association's national 100 yards champion and a year later he set a record time for cycling between Preston and Blackburn.
His footballing career started as a keeper at Darlington FC, with later spells at clubs including Preston North End, Rotherham Town, Sheffield United and Stockport County.
Shaun Campbell, from Darlington, set up the Arthur Wharton Foundation to highlight the player's achievements.
'Very emotional'
He said it had been a long-time ambition to travel back to Wharton's birthplace in Ghana with Ms Leeson.
Ms Leeson, from Rotherham, said: "I can truly say this has been the most amazing time of my life.
"To meet Arthur's relatives in this way, it is almost as if he has been resurrected and I think it's marvellous.
"To think I've been here with all his family. It's just been very emotional and I had a few tears in my eyes."
She added: "I've met some of the young children playing football here and don't really have the words to describe it, except to say it's been wonderful."
Mr Campbell said: "I can't believe we've really done it. This is where Arthur was from and after being here his journey makes more sense to me.
"It's amazing to see little lads here playing football. That's what needs to happen more in Africa. The North East gave Arthur his chance and the North East should be incredibly proud of that."
Ghanaian Minister of Information, Fritz Bafour, added: "This has been a very significant event in the lives of the people here.
"For them to realise that a Ghanaian from our community made a name for himself in the United Kingdom is amazing. It is a medal on our chest."
In 2003, Arthur Wharton was inducted into the English Football Hall of Fame.
Earlier this year, a statuette of the player, presented to the president of Fifa, Sepp Blatter, went on display at the organisation's Zurich headquarters.