Halloween crackdown on egg sales to youths in Redcar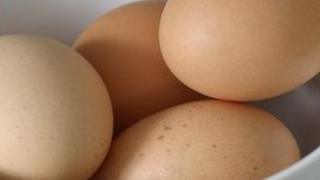 Shopkeepers on Teesside will be not be selling eggs and flour to young people in the run-up to Halloween.
Redcar and Cleveland Council said most shops had agreed to the voluntary ban, which is aimed at cutting down on anti-social behaviour.
In previous years there have been a number of reports of flour and eggs being thrown at properties.
Local schools are also being visited to drive home the message that nuisance behaviour will not be tolerated.
A dispersal order covering the Greater Eston area will be in force from 28 October to 6 November.
This gives officers the power to disperse groups of two or more people where there are "reasonable grounds for believing that the presence or behaviour of the group has resulted in, or is likely to result in, any members of the public being intimidated, harassed, alarmed or distressed".
Councillor Steve Goldswain said: "We take a zero-tolerance approach to anti-social and criminal behaviour, particularly at this time of year.
"Dark nights and fireworks can leave some residents worried, but we want to reassure everyone that this partnership approach has been put in place through Operation Autmunus to ensure that we are reducing the opportunity for a minority of people who may try to cause problems for other residents."