PCC candidates on force's future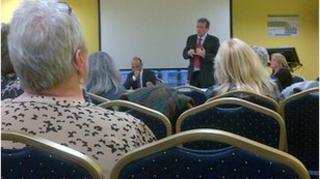 Labour's candidate to be Cleveland's first police and crime commissioner (PCC) has pledged to resist any future move to merge the force with a neighbouring constabulary
Barry Coppinger said he did not want decisions about Teesside policing ever to be taken on Tyneside.
Mr Coppinger, independent candidate Sultan Alam and Conservative Ken Lupton clashed over the future of the force at a hustings event in Stockton.
The Labour councillor said: "I wouldn't be supportive of a regional police force for the simple reason that it would be dominated by Northumbria which is a county with a 1.2 million population.
Voter anger
"It's inevitable that Cleveland and Durham would be drawn towards a Northumbria configuration."
At Wednesday's hustings, voters expressed anger the force had been in the headlines "for all the wrong reasons" for a number of years.
Cleveland's chief constable became the first to be sacked in 35 years earlier this month.
Sean Price remains on bail as part of a wider inquiry into alleged corruption at Cleveland Police Authority.
Operation Sacristy's costs are approaching £2m and audience member Alan Hardy put it to the candidates that a merger would solve Cleveland Police's problems.
The last proposals to merge the force with Durham and Northumbria were rejected in 2006 when the Home Office decided against creating regional "superforces".
Ken Lupton, a former leader of Stockton Council and the Conservative candidate for PCC, said nothing should be off the agenda in the future.
"Clearly the Cleveland force is the second smallest in the country and there are issues around efficiencies and economy of size," he said.
Image problem
"Whoever gets the commissioner's role, one of the first issues is to look at the structure and the collaboration and possibly amalgamation with other forces."
Mr Lupton said he had an issue with the "image of Tees Valley" and while there were opportunities for Cleveland Police to grow there was a debate to be had over whether the Darlington area should be included in the force's boundaries.
"Nationally and internationally Cleveland isn't known as an area.
"Are we Cleveland, are we Teesside, are we Tees Valley? I think that is a question that needs to be asked."
Independent candidate Mr Alam, a former officer who sued the force for more than £800,000 after being wrongly jailed, said any restructure would not be in the PCC's remit and instead be "entirely a matter that the Home Office will decide".
He said: "My responsibility will be what's best for the people of Cleveland and the people who have elected me to office and I will always fight for that.
"If that question arises, and it is a large if, then there will be a consultation process. The Cleveland community will make that decision, because it affects them and that is their right.
"I think Cleveland Police has an opportunity here if the right commissioner is elected to go forward and to have a far brighter future because the police authorities have not served Cleveland Police and the people of Cleveland well.
"Cleveland Police Authority has a lot to answer for."
'Failed the public'
Mr Price was dismissed after he was found to have lied about his role in the recruitment of the former police authority chairman Dave McLuckie's daughter.
At the outcome of the disciplinary hearing, the Independent Police Complaints Commission commissioner Nicholas Long said Mr Price had "failed the public of Cleveland".
Mr McLuckie remains on bail as part of Operation Sacristy. Both men deny wrongdoing and the costs of the investigation are approaching £2m.
PCCs will be elected in every force area around England and Wales except London. They will have responsibilities for budgets and have the authority to recruit and dismiss the chief constable.
Green Party candidate Joe Michna was unable to attend the hustings event.