Middlesbrough Council could cut jobs and services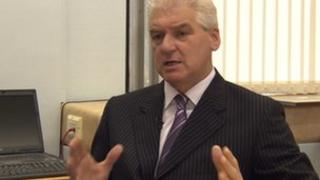 Middlesbrough Council is considering axing 220 jobs in an attempt to deliver budget cuts.
The council said it had also earmarked 111 services for closure in an effort to save £14m following central government cuts.
Services facing cuts include libraries, recycling and bus services, the council said.
Daycare centres for older people could also be closed. A six-week consultation period is to be held.
The town's elected mayor Ray Mallon said he would be writing to Prime Minister David Cameron to complain of "savage cuts".
He said: "It is clear that public services will be hit, the situation is dire.
"We are having to deal with the reality of unprecedented savage cuts, we don't have the resources.
"I will be writing to the prime minister to complain, whether or not he sees the letter is a different matter.
"We have lots of deprived areas and I don't believe the PM knows what real poverty is."
Disabled workers
The mayor, an Independent, added the savings were proposals at this stage and "not set in stone".
Speaking at a council meeting on Monday night, Mr Mallon described services for the elderly and young people as "sacred" and he said he would do his best to lessen the impact of any cuts.
Margaret Wotherspoon, a campaign manager for the Community union, said the proposal to close a factory which employs disabled adults was "the most brutal" on the list.
More than 30 staff with a range of disabilities work at Ayresome Industries which manufactures UPVC goods and garden furniture.
Ms Wotherspoon said: "It's an absolute disaster for them. It's disgusting. A lot of the guys will never work anywhere else.
"The majority have worked in the factory for at least 10 years."
'Big sledgehammer'
Other proposals include reducing the number of older people's daycare centres from three to one, which would save £140,000 a year.
It is also proposed that funding to local Sure Start schemes be ended, saving £350,000.
And summer play schemes for the under-14s are under threat. Ending them would save £200,000 a year.
Park End Community Centre in Overdale Road, which runs youth clubs, arts and crafts classes, kick boxing and keep-fit sessions, is also facing closure.
Middlehaven Councillor John McPartland said: "It was like being hit with a big sledgehammer - the severity of these cuts is biting at a ridiculous pace.
"It was like a black cloud over the town hall last night."