Mayor Ray Mallon not ruling out Middlesbrough MP bid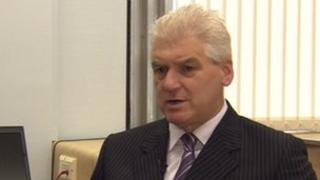 Middlesbrough mayor Ray Mallon has said he would stand as the town's MP if no other "high quality" candidates emerged.
A by-election is due to be held after Sir Stuart Bell died earlier this month following a battle with cancer.
Former detective Mr Mallon said he wanted to "protect" the town's interests.
But he said he hoped it would not be necessary for him to contest the election.
"What I intend to do is protect the interests of Middlesbrough and therefore I want to see an outstanding member of parliament brought into place for this town," he said.
'Perfect' relationship
"Now I intend to view the candidate list and, if I conclude that candidate list is high quality, then there is no need for any intervention from me.
"If the candidate list isn't of high quality then I will stand, it is as simple as that."
Mr Mallon said he believed Labour, Conservative and Liberal Democrats would ensure there was a high quality list, meaning he would not have to stand.
He added he had never had any "aspiration" to be an MP.
Mr Mallon, who was nicknamed "Robocop" for his tough stance on crime during his time with the police, was first elected mayor in 2002 and re-elected in 2007.
Senior Labour backbencher Sir Stuart, 74, who died from pancreatic cancer, had been Middlesbrough's MP for almost 30 years.
Following his death, tributes poured in including from Labour leader Ed Miliband, Prime Minister David Cameron and former prime minister Gordon Brown.
Mr Mallon said he had great admiration for Sir Stuart and enjoyed a "perfect" relationship with him while working closely together.
No date for the by-election has been set.
There will be more on this on the Sunday Politics, North East & Cumbria, Sunday, BBC1, 1100 BST.