RSPB's Saltholme reserve reaches National Lottery awards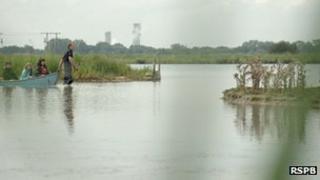 Teesside's famous, or some might say infamous, skyline has a soft touch that is being recognised by a growing number of local people.
The RSPB's Saltholme wildlife reserve and discovery park has an industrial backdrop that Caroline Found, Lifelong Learning Manager at the centre, calls "a dramatic contrast with nature".
"Visitors who live near us say they have a great pride in what's going on here and feel the huge wide-open skies that are often graced with a skein of geese provide a heart-warming spectacle over their main lake."
Lifelong Learning at Saltholme, its nature education programme, started three years ago with a mission to preserve and promote the wildlife of Teesside.
They hold groups every month in which people engage in hands-on conservation activities.
And the RSPB said: "These groups create a sense of ownership amongst its visitors."
Ms Found has a team of nine dedicated staff and 10 passionate volunteer helpers who turn out in all weathers to bring the reality of the natural world on the Teesside doorstep to all ages.
"We're always wanting new blood to get involved in our volunteer activities - they all find it a great thrill to have children here who may only otherwise know the built up areas of housing estates and get them to understand the natural environment.
"We see them smile, we see them wet, we see them muddy - but they love it," she insisted.
Stimulating experience
During term time, much of the Lifelong Learning Team's time is taken up introducing parties of local school pupils and students to the rich source of wildlife and plants at the reserve.
Ms Found said that taking part in an environmental education out of the classroom is a stimulating experience.
"We get them to feel the cold and warm, the temperature of the water, feel the wind in their faces and get a real taste of their surroundings that they simply won't get in tech class," she said.
"From primary through to terciary," Ms Found said, "they really get involved in a wide number of activities."
And the natural world is somewhere that all the senses are stimulated.
"We take in the little ones in a safe environment," she said, "and introduce them to the natural world with free exploration under guidance and spotting nature in the raw in the various habitats."
One of the Wild Guide volunteers, Hannah, said: "Wild Guiding has been an amazing experience - it's the freedom that children have to explore the wildlife in our discovery zone that is just so good.
"As Wild Guides we facilitate learning and the excitement and enthusiasm everyone shows for finding out about wild things is really brilliant."
The Lifelong Learning programme at Saltholme is just one of the options for which the public can vote in the National Lottery Awards.
The voting closes at midnight on Sunday 28 October. You can access the National Lottery voting page here.