Middlesbrough Disabled Supporters' Association anger over tickets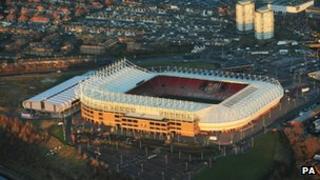 Disabled football fans queued up overnight for tickets after they were only allocated five wheelchair spaces for a match, a supporters' group said.
Members of Middlesbrough Disabled Supporters' Association had expected to receive up to 20 tickets for the match between Middlesbrough and Sunderland at the Stadium of Light on 30 October.
Chairman Paddy Cronesberry said the lower allocation came as a "bombshell".
Sunderland AFC said it was now working to "accommodate" more requests.
'Very disappointed'
When the association was informed of the limited allocation for the Capital One Cup match, some members decided to queue along with able-bodied fans.
Mr Cronesberry said: "I'm just very disappointed. The unfortunate thing is that because of the low allocation we had disabled people queuing in the freezing cold at 2.30am on Saturday morning.
"We try and arrange tickets and transport for all our members who want to attend away games and 99% of the time we don't have any trouble whatsoever; clubs are very accommodating to our requests.
"It was a bit of a bombshell when they finally decided to publicise this was how many tickets we were getting last week."
A Sunderland spokesman said the club was "working closely with Middlesbrough FC to accommodate the requests of disabled supporters".
Middlesbrough's main ticket allocation was limited to 2,800 despite competition rules that entitle the club to 15% of the Stadium of Light's 49,000 capacity.
The decision was made after Sunderland Council's safety advisory group cited evidence of "previous bad behaviour" by fans.