Transporter Bridge celebrations end with time capsule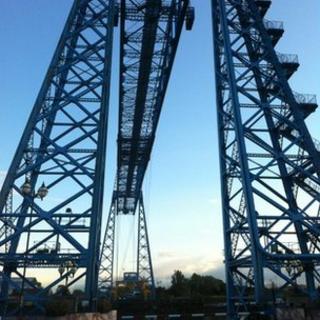 A time capsule has been buried beneath the Transporter Bridge in Middlesbrough to signal the end of the landmark's centenary year.
The capsule includes letters, photographs and other glimpses of Teesside life in 2012.
Staff from mima, the town's art gallery, developed the project with cash from the Heritage Lottery Fund.
The bridge turns 101 on Wednesday and the burying of the capsule is the final celebration event.
News clippings relating to famous moments in its history have been included in the capsule which was buried on Monday.
'Compare and contrast'
Comedian Terry Scott wrote off his Jaguar when he drove off the bridge's approach road in 1974 and landed in a safety net.
The Transporter survived bombing raids in both World Wars and played a starring role in the television series Auf Wiedersehen, Pet.
Helen Wickens, a mima apprentice, said: "We've put the newspaper article in about when Terry Scott drove his car off and other things like that.
"It's world renowned really so we wanted to get as much news in about it as we could."
The apprentices have included references to their own lives.
Apprentice Kelsey Brown said: "I think they will find the fashion aspect of what we wear now interesting. It will be good for them to compare and contrast.
"We also put some personal items in, photographs and statements about our lives."
The bridge is one of only six of its type still in operation around the world and links Middlesbrough and Port Clarence over the River Tees.
Pictures of all the items going into the time capsule will be uploaded on to www.historypin.com and www.hlf.org.uk