Fireball wreck hero Colin Wales gets award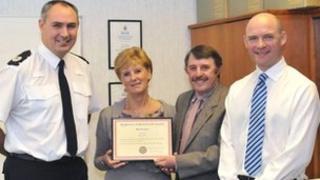 A driver who saved a man from a car wreck on the A68 has been given a police award recognising his bravery.
Colin Wales, 66, from County Durham, was travelling home when two cars collided in front of him.
He got out of his car and pulled Andrew Basham, from Shildon, from the wreck before it burst into flames.
Durham Constabulary's Assistant Chief Constable Dave Orford said: "It takes extraordinary bravery not knowing any of the situation you're walking into."
'Late for tea'
Mr Wales said: "I could see the flames in the car next door, so it's fairly simple, you grab them, you drag them out and drag them the rest of the way.
"I was concentrating too much on getting the guy out to think of anything else.
His wife Susan said: "He didn't tell me what happened at first, he just said there had been an accident and I'm going to be late for tea.
"He was embarrassed when I kept telling him about how proud I was of him.
"He played it down but I think he's a hero."
Mr Basham, the man who was rescued from the car, suffered a fractured coccyx in the collision.
He said in October 2011: "I'm amazed I survived, I'm extremely grateful to the guy that got me out I'd just like to thank him and let him know I'm just really grateful.
"Apparently the firemen said that if it had been any longer no-one would have got out either of the cars."