Teesdale and Weardale search dogs are 'valuable asset'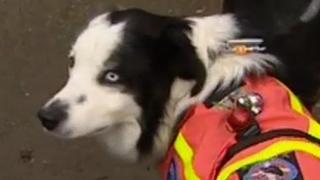 A search and rescue team in County Durham depends upon a team of about 50 volunteers to provide round-the-clock assistance.
However, another "highly valuable" asset for the Teesdale and Weardale team is its four-legged friends.
The dogs are trained to recognise the human air scent - as opposed to other dogs which track an individual's scent along the ground.
In ideal conditions they can pick it up from a quarter of a mile away.
The team's five dogs and their handlers are part of the Search And Rescue Dogs Association and undergo a rigorous training process.
This begins with basic obedience followed by games of hide and seek, which develop into finding a person then returning to the handler to indicate success.
April Jones search
It builds up to a two-hour search in all weather and at any time of the day or night.
All of the dogs also undergo a "stock test" to ensure they would not be interested in sheep or other farm animals while out searching.
One of the team's dogs, two-and-a-half-year-old border collie Isla, was recently taken to Wales to help in the major search operation for April Jones.
Handler Tony High said: "She does the work of 20 men.
"All we do with these dogs is tap into their natural hunting ability, and their four legs and big claws help them tackle difficult terrain.
"Fitness-wise they can go on all day, they're highly valuable assets."