Hartlepool Council sells lodge to ease "financial pressures"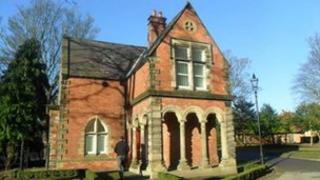 A 19th Century lodge in Hartlepool is up for sale in a bid to ease "financial pressures" facing the council.
Hartlepool Council has put the former park keeper's lodge in Ward Jackson Park up for sale as it faces cuts of about £20m over the next four years.
The two-storey Grade II listed property, which was built when the park opened in 1883, has been unoccupied for a number of years.
Councillor Paul Thompson, said it was the "best option" for the authority.
He said: "Selling buildings and land is an integral part of managing the council's finances and is helping to protect frontline services at a time when we are facing the biggest cuts in government funding in living memory.
"This is a very historic property in an excellent location and we are expecting lots of interest."
Land next to the building is also up for sale.