Lorry driver falls from cab after crash at Tees flyover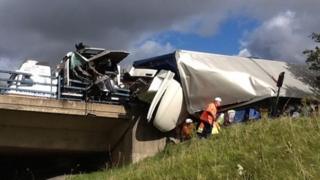 A lorry driver was seriously hurt when he fell 30ft (9m) from his cab on to a grass verge after his vehicle crashed through road barriers on Teesside.
The lorry went through the barriers on a westbound exit slip road on to the A19, known as the Tees flyover.
The accident happened at about 11:00 BST and the Stockton man was flown to The James Cook Hospital for treatment.
Police said he had fallen out of his cab during the accident on to the grass below the flyover.
The northbound carriageway was closed to deal with the incident.