Darlington teenager Laura Dean saves pensioner's life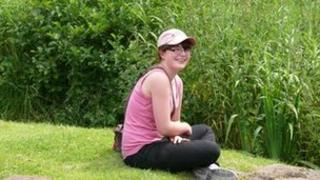 A teenager from Darlington has been praised by police after she spotted a missing pensioner lying "cold and confused" in a field.
The 83-year-old man had been reported missing by his carer on Sunday.
Laura Dean, 13, spotted something as her family drove along Staindrop Road at about 12:10 BST on Sunday, and persuaded her father to turn back.
Police said it was "without a shadow of doubt" that Laura had saved the man's life.
Laura said: "I just saw a gap in the hedge and a man lying in a field. It took a few seconds for it to sink in, then I told my parents and persuaded them to turn back."
'Lying on back'
Her father John said the family were initially sceptical before deciding to turn around.
"We eventually found an elderly man lying on his back in a field," he said.
"He was very cold and confused. We gave first aid on the scene then rang for an ambulance and the police."
The man was taken to Darlington Memorial Hospital where his condition is described as stable.
Durham Police said Laura would be "recognised for her efforts".
Insp Sukhsham Sahani said: "Laura's acute observation skills have saved this man's life.
"He was unable to move due to the length of time he had been lying in the field, and the weather conditions were worsening."