Prince's Trust boxing scheme for Redcar jobless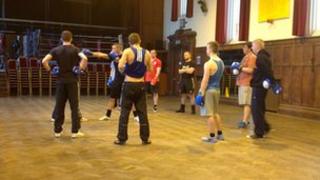 The lads pause for a sip of water before another punishing circuit of sprints and push ups.
It may only be mid-morning but they are quickly becoming accustomed to their relentless schedule in the gym.
Ten of them have almost completed a programme arranged by the Prince's Trust and the Redcar Amateur Boxing Club designed to help unemployed 18-24 year olds get back into work.
One of their coaches is soon barking out the instructions.
"Take your hands off your hips you look like a teapot," he shouts and the group are running again, the sweat dripping down their faces.
'Take orders'
Redcar is among the worst areas in the country for youth unemployment and was labelled a "hotspot" by Department for Work and Pensions in June.
The boxing club's founder Frankie Wales is confident the discipline and application his sport demands can give young people the focus they need.
In fact, he knows it can.
More than a dozen have already been helped into apprenticeships at the nearby Teesport through a programme run by the club.
"Really all they want is a job, Mr Wales said.
"It's a shame that they're not in education, training or work. Forty years ago they would have been in industry, it's not all down to them.
"But by coming here they're showing that they can take orders, get up every morning and turn up.
"Work is physical and whatever job you're doing there's usually a bit of banter and you might get the mickey taken out of you. They're learning all the time here, how to laugh it off as you would at work."
'Diet and hydration'
Alongside the skills of the ring, the young men are learning about teamwork, diet and attitude.
There are also smoking cessation classes available for those that need them.
"Some of the kids don't know what to eat, we teach them about diet and about hydration," says Mr Wales, who credits boxing with turning his own life around.
"They will be burning off about 3,000 calories a day while they're here.
"Boxing is one of the most amazing things that we have that is legal. It challenges people and channels their anger and aggression."
After the first glove work session of the morning, the group is allowed a longer break.
Some have boxed before, for others everything is new.
Jonathon Speirs from Redcar is a first timer.
The 21-year-old has been out of work for three months after losing an agency job at the SSI steel works.
"My brother told me about this," he said.
"It gets me out of the house. It's been hard work but it's worth it.
"I enjoy boxing and hopefully it can help get me a job. They've got people into PD Ports before and they're going to try for us."
Jon Jon Quinn from Redcar has been boxing with the club for just over a year.
He was last employed back in November when he had an apprenticeship with a machining company
"Everyone's working each other really hard and you can see the skills coming on every day. Most of them have never boxed before in their lives.
"Now they're dodging shots and throwing punches properly, it's good to see."
Mr Wales has a high profile in the town thanks to the positive work he does for young people and other community groups.
So much so that in the build up to the last General Election - hotly contested in the town - he suddenly found himself popular with candidates of different political colours.
"We keep out of politics and make a difference in our own way," he says.
"The biggest buzz is seeing lads come through and get a job at the end of it.
"We're giving them that bit of confidence to push themselves. Standing up in a job interview and talking about yourself is challenging but if you can climb through those ropes you can do anything."