Crews remain at Darlington garage fire scene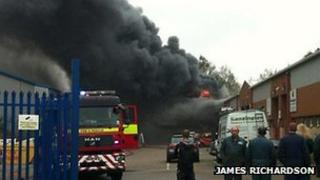 Firefighters remain at a Darlington industrial estate following a fire which is believed to have started when a gas cylinder exploded.
A 63-year-old man was airlifted to hospital suffering burns after the fire at a garage on the Cleveland Industrial Estate in Forge Way on Thursday.
A cordon was set up and trains on the East Coast Mainline were affected.
Firefighters have been cooling an acetylene cylinder that is still at the property.
John Robson, from County Durham and Darlington Fire and Rescue Service, said they would be doing thermal imaging tests on the cylinder in the hope of reducing the cordon that was set up around the scene.
The service said the fire started at the single-storey building, which was used as a gas conversion centre for cars.
Businesses around the garage were evacuated.