Funeral for murdered Rachel Wilson in Middlesbrough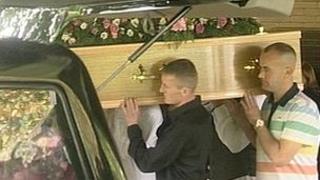 A funeral has been held for a Middlesbrough murder victim whose remains were found 10 years after she went missing.
The remains of Rachel Wilson, who had been working as a prostitute, were discovered near Newham Hall Farm in Coulby Newham in June.
Police began a murder inquiry after the 19-year-old disappeared from her Middlesbrough home in 2002.
Her funeral took place at Teesside Crematorium's chapel of St Bede's.
Civil funeral celebrant Rob Wills said: "We're here to celebrate the life of a lovely, lively, bright young lady.
"We hope that's going to bring some comfort and consolation to family and friends alike."
'Several calls'
Cleveland Police said several leads were being pursued, and people with links to the farm had been spoken to.
Footage of Ms Wilson, of Grove Hill, was captured on CCTV in Middlesbrough the day after she went missing in May 2002.
Head of Cleveland Police's murder investigation team, Supt Peter McPhillips, said: "We made several appeals following the discovery of Rachel's remains.
"In response to these appeals, we received several calls offering further information.
"We are currently following up these leads and reviewing the original inquiry to look for links to Newham Hall Farm."
A 57-year-old man was arrested in 2003 in connection with Ms Wilson's disappearance, but was released without charge.