Developer sought for new Teesside super-hospital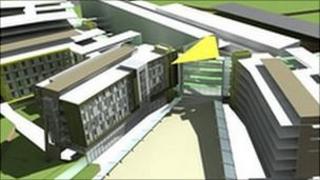 A developer is being sought to build a new super-hospital on Teesside.
The £300m facility at Wynyard Park would replace existing hospitals at Hartlepool and Stockton.
The North Tees and Hartlepool NHS Trust has begun a bidding process for the building contract, and hopes it could be up and running by 2017.
Following an independent review of the outline business case, expressions of interest are also being invited for pension funds to lend the money.
Paul Garvin, chair of the trust, described the process as similar to taking out a mortgage.
He said: "We borrow the money, we build the building, and we pay it back year on year.
"At the end of the period we end up owning the building."
The project is a smaller-scale version of the original £460m plan, which was scrapped, along with 12 others nationwide, in June 2010 as part of measures by the coalition government to save £2bn.