Bus driver denies causing Middlesbrough Bus Station death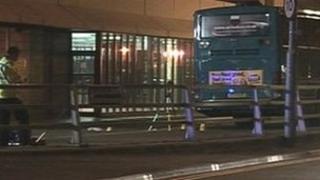 A driver has denied causing the death of a man knocked down as he tried to get on a coach after it pulled away from Middlesbrough Bus Station.
Paul Siddoway "panicked" as the last evening service to Darlington left, Teesside Crown Court heard.
The 40-year-old from Darlington followed, banging on the doors, before he was struck by the coach wheels.
David Luck, 59, from Bowes Court, Darlington, denies causing death by dangerous driving.
The jury heard Mr Luck let three passengers on the X66 Arriva service.
'Ignore the risk'
He then closed the doors on Mr Siddoway, who was smoking a cigarette and carrying his terrier, wrapped in a blanket, under his arm.
Jolyon Perks, prosecuting, said: "After the first three passengers had boarded the bus the defendant closed the doors, impatient perhaps that he did not want for Mr Siddoway to extinguish his cigarette or perhaps not wanting to take Mr Siddoway on to the bus with his dog, and he pulled away from the bus stand."
Mr Siddoway "panicked" and followed, banging on the coach doors trying to get it to stop.
Mr Luck took the "deliberate decision to completely ignore the risk" of pulling away with Mr Siddoway beside the coach, the prosecution said.
The driver later told police he felt a "bump". He then stopped and contacted the emergency services.
The trial, which is expected to last for five days, continues.