Redcar Beacon: Mo Mowlam overlooked in 'pier' poll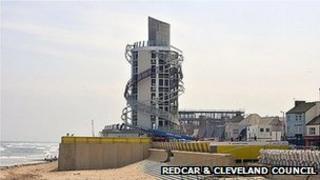 A new seaside landmark has been officially named the Redcar Beacon after a public vote.
Residents overlooked the chance to name the structure after the town's former MP Mo Mowlam, with the eventual winner picking up 156 of the 939 votes cast.
Lemon Top Tower came second, with Mo's Beacon and Mo's Lookout trailing in sixth and seventh place.
The 80ft (24m) tower was given the working title of the Vertical Pier when it was first suggested in 2008.
The name Vertical Pier, which came third in the vote, had been unpopular with some locals and a campaign was started calling for a traditional pier to be built.
Voters chose from nine names selected from a list of 500 suggested by local people.
The beacon, heralded as the centre piece of the town's regeneration, is due to open next year.
It will have a viewing platform on the top level, a cafe and creative workshops.
Labour councillor Olwyn Peters, cabinet member for culture, leisure and tourism, said: "Bringing more visitors to Redcar and the surrounding area is a hugely important aim for us and the Redcar Beacon is a brilliant new attraction.
"Once it is open to the public, I hope as many people as possible take the chance to come along and see what Redcar has to offer."
Carl Conway, secretary of the Redcar Pier Association, welcomed the tower's name and pledged to continue efforts to raise funds for a traditional pier.
"We feel that this will help end any confusion between our own association and our efforts to provide Redcar with a real pier," he said.
"We have nearly reached our first milestone of 500 members who, by paying £10, show their support for a real pier."