Ex-burglar says 'some people need to be in prison'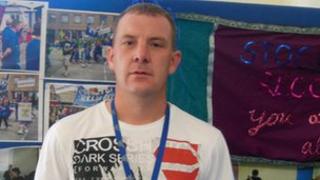 Ex-burglar and drug pusher Jodie Hind has a string of convictions longer than his arm - more than 100. So many in fact, he cannot remember the exact number.
He was first jailed for theft on his 14th birthday and for the next 16 years was in and out of prison dozens of times for a "mind-blowing" number of offences.
At his lowest ebb he was breaking into houses to steal money to feed a heroin and crack cocaine habit.
And when things were going "well", in his eyes, he was making £1,000 a day selling drugs and spending it on sports cars, jewellery and clothes.
But every few months he would find himself back inside. According to the 34-year-old, most people had written him off and did not believe he could break the cycle of crime.
But break it he did, with a lot of professional help, and today he is drug-free and has not committed a crime for more than four years.
'Big baby'
On Wednesday Judge Peter Bowers caused controversy when he said burglars were "courageous" and decided to give serial burglar Richard Rochford a supervision order instead of jail.
The Teesside Crown Court judge also said he thought prison did criminals "little good".
Mr Hind agrees that jail does not always work, but many offenders still need to be locked up.
He said: "Some people need to be in prison for the safety of the public. Society was better off when I was inside before I had confronted my problems.
"I was not facing up to the fact I had character defects and these were were manifesting themselves in addictions such as drug-taking and alcohol.
"I had problems such as managing anger, I was like a big baby, and replacing one addiction with another.
"But I have a conscience and I feel most shame about dealing in drugs. I am also haunted about burgling people's homes.
"I thought I could cheat my way through life but with lots of help I have turned my life around and changed my way of thinking."
'Without hope'
Through the help of Alcoholics Anonymous and other addiction agencies, Mr Hind now works for Five Lamps, a Stockton charity which helps the unemployed get jobs or start their own business.
Mr Hind said his father was an alcoholic but on the whole he and his sister had a good upbringing. But he kept lapsing into crime because he was "immature and without hope".
He said: "My recovery was very public. I've decided to stay in the area where I committed my crimes and a lot of people don't approve of me.
"But I believe in reform, I am accountable for my actions. I am up for what the judge has said, some people should be in prison but the prison numbers are too big.
"I believe with the right help people can be reformed."
Mr Hind is not afraid of having a relapse. He said: "Everyday I take stock. I have changed my way of thinking.
"I am responsible for my actions and learn from other people who have overcome their problems."
Jessie Jacobs is the chief executive of A Way Out, a charity which helps women and young people to tackle a range of problems including depression, addiction, self harm and exploitation.
It has been running for 10 years and helps about 1,000 people a year.
Ms Jacobs said: "The judge could have chosen his words more carefully. Burglars are not brave but they may well be desperate. So while I do not condone the judge's choice of words I welcome the fact that he has opened up a debate.
"He said he thought jail rarely worked and I believe we need to reexamine and reform the whole area of justice.
"There are a number of alternative pilot projects ongoing such as bringing perpetrators face to face with victims."