Discover Middlesbrough: Brian Clough and Don Revie walk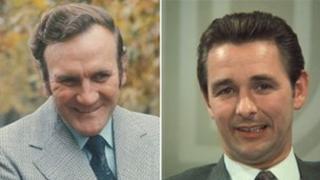 Brian Clough and Don Revie had more in common than their football success and an intense dislike of each other.
The managerial greats grew up in houses just a short walk apart in Middlesbrough.
Next week, their upbringing and the social history of the town is the subject of a heritage walk as part of the Discover Middlesbrough 2012 festival.
A stroll from Clough's former home in Valley Road to Revie's in Bell Street will take in the sights the men would have seen and provide a portrait of the town that forged them.
Guiding Friday's walkers will be Roger Hermiston, a former assistant editor of Radio 4's Today programme, and Rob Nichols, editor of football fanzine, Fly Me To The Moon.
Mr Hermiston walked the 15 minute journey from Valley Road to Bell Street while researching for his 2011 book, Clough & Revie: The Rivals Who Changed the Face of English Football.
He said: "I was fascinated that these two great characters who loathed each other in later life came from the same town.
"I wanted Middlesbrough to be the third character in the book to try and explain where they came from.
"Everyone knows about Clough and Revie through their connections with Leeds, Derby County and Nottingham Forest but less is known about their links with Middlesbrough."
Mr Nichols has led other heritage walks around the town including a tour of Middlesbrough's old Ayresome Park ground - now the housing estate where he lives - and believes the Clough and Revie route will be just as popular.
'Much to see'
He said: "There's a chapter in Roger's book where he walks from one house to the other and I thought it was a brilliant idea for a walk.
"Growing up in Middlesbrough we were always aware that these great football managers and adversaries were from the town.
"The thing about Clough was that everyone knew him or his family and had a story about him but I'd never come across anyone who knew Don Revie. You tend to think about them being from a different era but they weren't that far apart."
"There's so much there to see walking between the houses and it won't take us that long either."
Captain James Cook was born a couple of miles away from the house on Valley Road where Clough lived and the walk passes through Albert Park.
The park was built by Henry Bolckow - Middlesbrough's first mayor and MP - and opened by Prince Albert.
Mr Hermiston said: "Albert Park was built as the lungs of the town because during the Industrial Revolution lots of people were moving to the town and working in grimy conditions, they needed somewhere to breathe and relax.
"There will be big dollops of social history thrown in. My grandfather and father came from the town and I've always been interested in that side of my family.
"They came down to Middlesbrough from Scotland and worked in the iron ore industry.
"Rob suggested the walk and it seemed like the right kind of thing to do for the festival."
Mr Nichols said it was interesting for local people to consider their own parents or grandparents who grew up in the decades between the World Wars.
He said: "A lot of people who lived through the Depression had the fear for the rest of their lives, they had a terror of going bust again.
"The book was about three characters, the two managers and the town and that's what the walk will be about. It won't just be football."
Anyone wishing to take part in the free walk should meet at the Albert Park cafe on Friday 14 September at 13:00 BST