Lewin No. 18 locomotive returns home to Seaham Harbour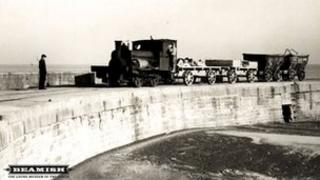 An 135-year-old steam locomotive which worked on the County Durham coast for nearly 100 years, has returned home.
Built in 1877 by Stephen Lewin & Co, the Lewin No.18 worked at Seaham Harbour for 93 years.
Due to its small proportions, the No.18 looked after work on the low level lines around the harbour, shunting chaldron wagons of spilt coal and collecting wagon loads of shingle off the beach.
Going into retirement in 1969, it was stored at the harbour for six years before it was taken to Beamish Museum for preservation.
Now, more than 40 years later, the Lewin No.18 has made a return trip back to the town.
Halliwell Weetman, the last driver of the No.18, was reunited with the locomotive on Wednesday.
He said he would have "no trouble at all" controlling the locomotive again when it is back in action.
'Made my day'
The 80-year-old said: "This is absolutely magic, but it wasn't like this when I had it. You got so many burns on these things.
"It really is marvellous to be back on it after 46 years, it's a long time.
"It has made my day. The next time I'm with this hopefully I'll be driving it."
The locomotive was on static display at Beamish's Edwardian Colliery before a restoration project began in 2005.
Thousands of staff and volunteers worked on the revamp, which cost and estimated £150,000.
Paul Jarman, keeper of transport at Beamish, said: "We are thrilled to be so near to completion, and to see No.18 ready to work.
"I hope that those who recall No.18, or who know it through anecdotes or the recollections of older generations, were pleased to see No.18 back in such fine form and standing in the area it spent 93 years in the service of the harbour.
"It is a very small and appealing steam engine, so is bound to delight children and hopefully please those who saw it plying its trade there."
After final testing and crew training it will be back on track on the railway at Beamish, shunting some of the restored chaldron wagons which were once used by the locomotive at Seaham.