Blue-green algae alert at Middlesbrough lake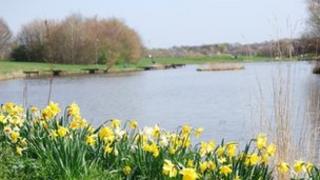 An infestation of potentially harmful blue-green algae has led to people being warned to keep out of a Middlesbrough lake.
The blooms produce toxins that can cause rashes, eye irritation, vomiting and diarrhoea and can be particularly harmful to animals.
It was discovered in Hemlington Lake by the Environment Agency.
Lake manger John Ferry, said visitors need to "take precautions" and "avoid swallowing the water".
Warning notices have been placed at all entrances to the lake giving advice.
Mr Ferry said: "While blue-green algae is common in rivers, lakes and ponds at this time of year we would advise people to take precautions by keeping out of the water and making sure their children and pets do not have contact with the water.
"It's important to stress there have been no long-term problems or deaths in humans caused by blue-green algae."
The algae is likely to subside when the weather cools.