Cleveland Police chief Sean Price's contract not being renewed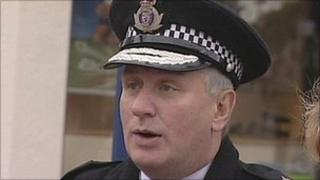 A suspended police chief accused of misconduct is to lose his job.
Chief Constable Sean Price, of the Cleveland force, is to face a hearing accused of using undue influence to get his boss's daughter a job in 2008.
Cleveland Police Authority also said that his contract, which is due to run out in March next year, will not be renewed.
Mr Price and his deputy Derek Bonnard were arrested a year ago, but deny allegations of wrongdoing.
The misconduct allegation is in relation to the appointment of the daughter of Dave McLuckie, the former chairman of the police authority.
The force originally detained Mr Price and Mr Bonnard, who are suspended from duty, a year ago, on suspicion of misconduct in a public office, fraud by abuse of position and corrupt practice.
Cleveland Police Authority said the investigation into both men was still ongoing.
Wrongful arrest claim
In a statement, the authority said Mr Price was to be given notice and it would begin looking for a new chief constable in November.
"In 2009, the authority agreed to extend the contract of Chief Constable Sean Price by a further three years," it said.
"That extension expires at the end of March 2013 and the authority has agreed to begin the required process of giving Mr Price six months' notice of his termination of employment.
"The process for recruiting a new chief constable will begin following the election of Cleveland's first Police and Crime Commissioner in November."
Last week the Independent Police Complaints Commission (IPCC) passed a file to the CPS and Cleveland Police Authority in relation to both officers.
Mr Price and Mr Bonnard, who have both launched legal claims that they were wrongfully arrested, released a joint statement which said they were determined to clear their names and return to work.